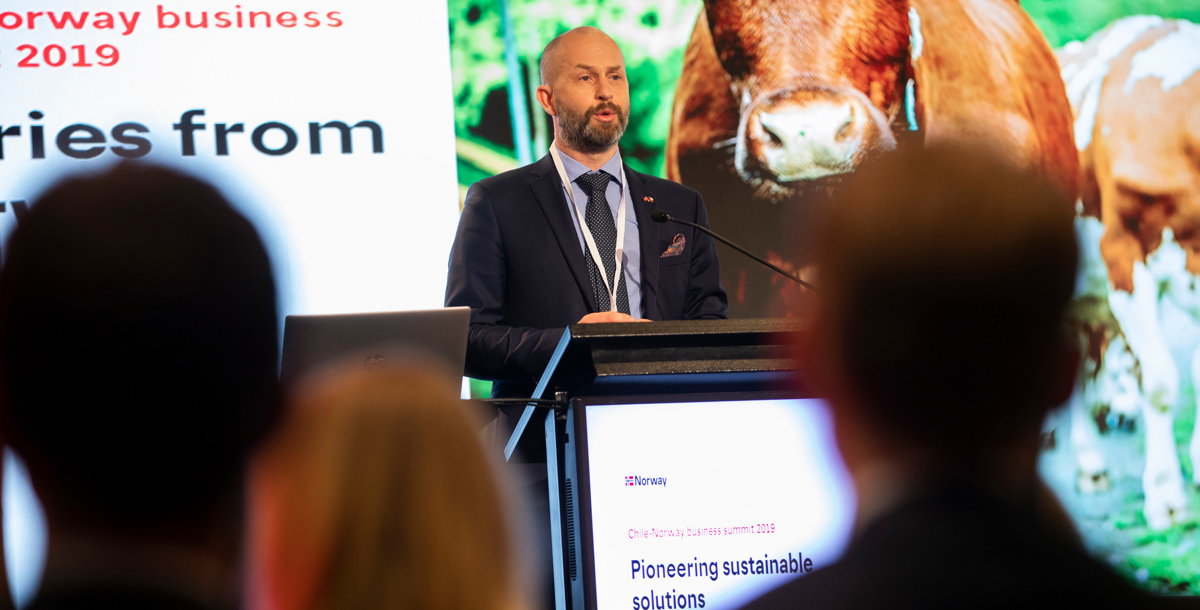 7Sense and the royal couple in Chile
7Sense had a central role on the occasion of the State Visit of Their Majesties King Harald and Queen Sonja to Chile last week. We gave a speach at the opening seremony of the Business Summit, along with the Majesty and several ministers. Additionally, we presented our agri-tech solutions to a delegation of Chilean participants.
Dbate / Publisert 03.04.2019
The Norwegian State Visit to Chile marked the first official visit to Chile since 1967. To mark the event, Norwegian companies were invited to join the accompanying business delegation and the Chile-Norway business summit 2019 in Santiago.
More than 80 representatives from Norwegian companies participated in the summit, where they met more than 200 Chilean representatives.
Chile is currently the second largest market for Norwegian companies in South-America, after Brazil. Norwegian export to Chile exceeded NOK 1,2 billion in 2018. Today, there are more than 60 Norwegian companies with active business relations in Chile, primarily related to aquaculture and fishery. 
7Sense Products presented their sustainable agri-tech solutions that helps farmers reduce waste of water and loss of food both pre- and post harvest.
Additionally, 7Sense were given a prime spot during the opening seremony - as a part of "Stories from Norway". Max. J. Tangen gave a brief taste of the 7Sense story, with emphasis on how technology can be utilized across segments, industries and cultures. "We appreciate the opportunity to tell our story in this setting and are proud to be honored as representatives for the business delegation this way," Tangen explains. 7Sense and Yara were selected to tell their stories, this way representing the span of Norwegian businesses.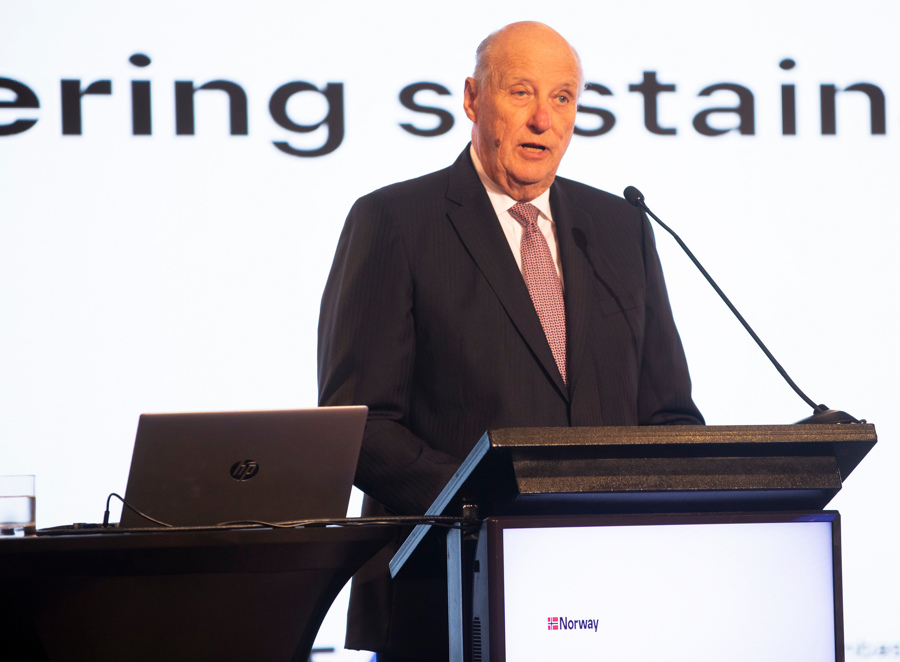 The King's speach
His Majesty King Harald held a personal and inspiring opening speach. Sustainability and the mutual oppportunities and responsibilities of the two countries were sentral topics. Following the Majesty's speach was the Minister of Fisheries, Mr. Harald Tom Nesvik. He gave an inspiring speach before the Chilean Minister of Finance, Mr. Felipe Larrain, charmed the delegation with his views on and insight in Chilean economy.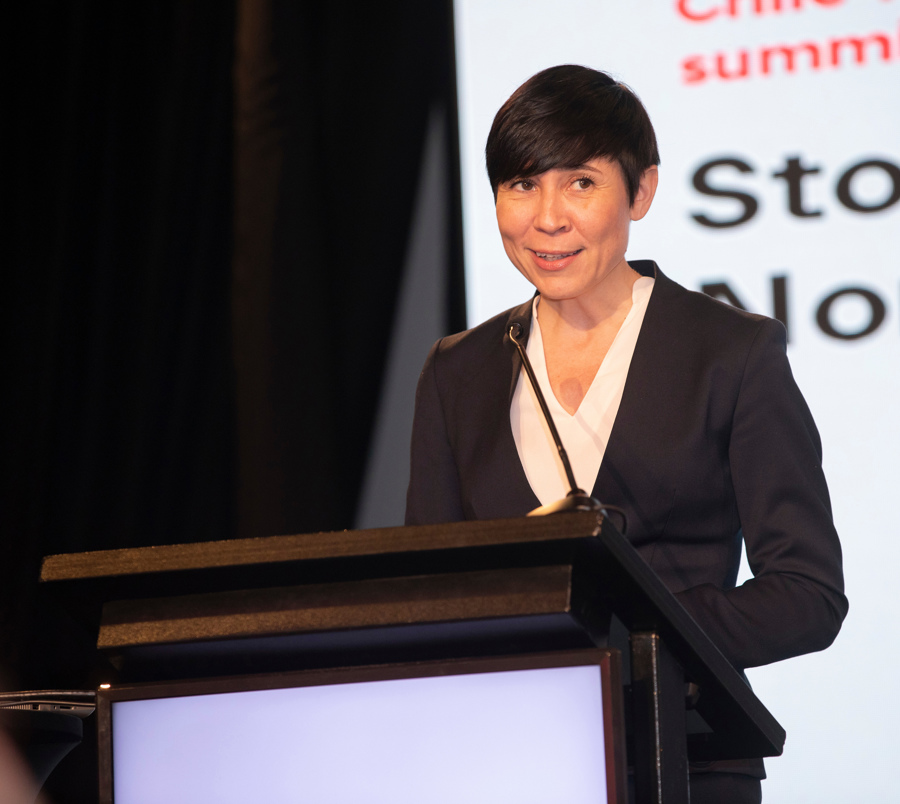 The Norwegian Minister of Foreign Affairs
The "Stories from Norway" session was opened by the Minister of Foreign Affairs, Ms. Ine Eriksen Søreide. Her speach and story was sentralized around what unites our two countries, the values upon which Norwegian industry is built and the responsibility we all have in relation to the goals for sustainability. Thereafter, she introduced Yara and 7Sense as two pioneers within business and product development. Yara, as a pioneer from the early days of Norway's business development and 7Sense as a more recent pioneer.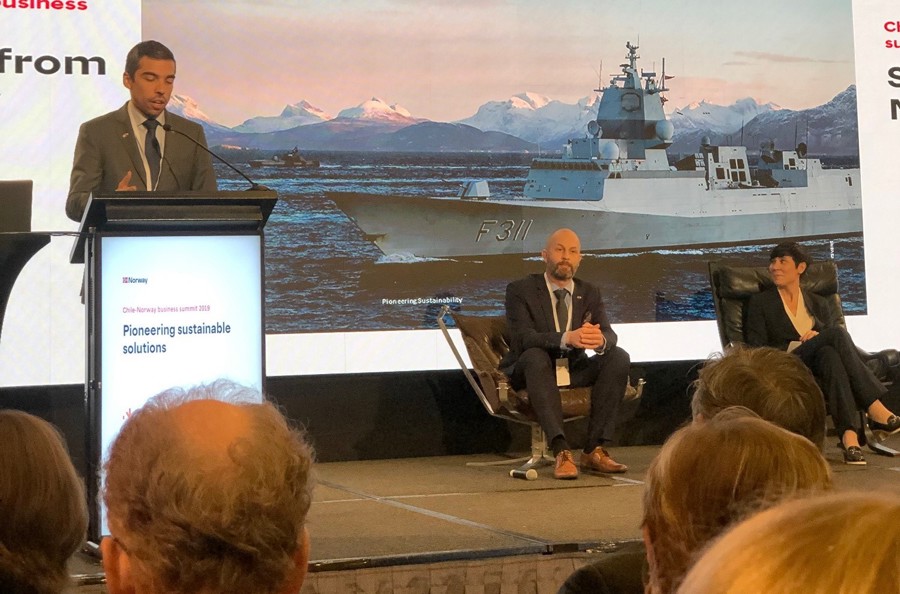 Stories from Norway
Pablo Barrera Lopez, EVP Yara, tells his and Yara's story, while the Minister of Foreign affairs and Mr. Tangen pays close attention. Mr. Barrera Lopez is a Norwegian born Chilean and made a very good impression.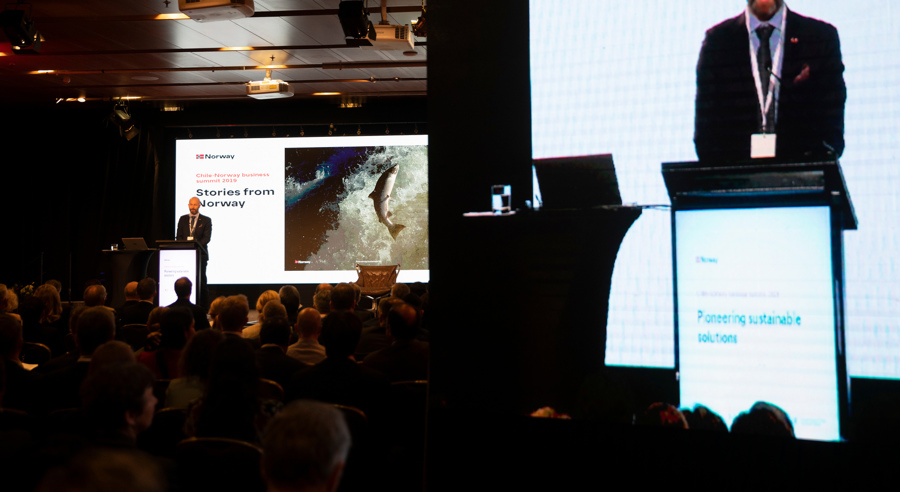 7Sense - a recent pioneer
An image from the 7Sense speach and story during the opening ceremony. We can relate to the Foreign Minister's introduction of the company as a recent pioneer.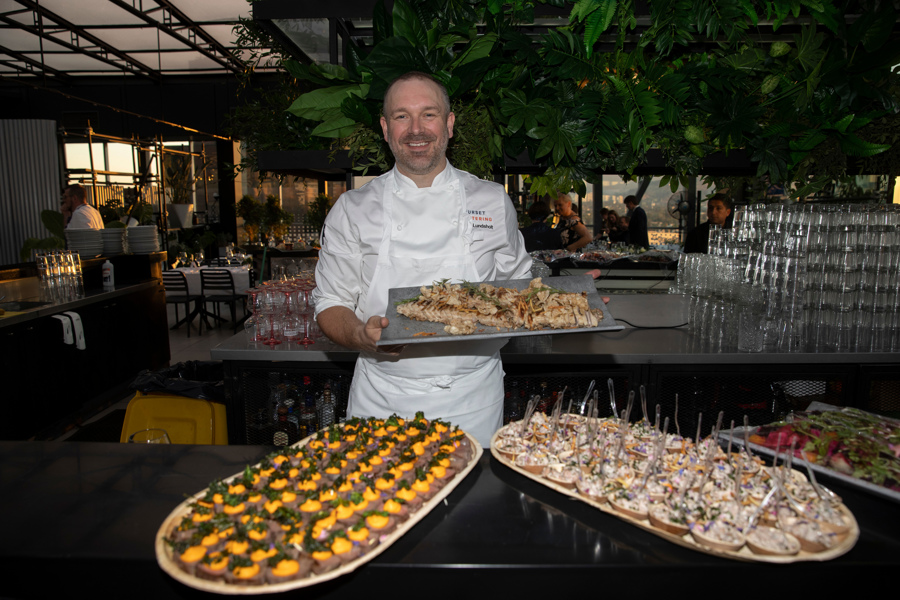 Royal dinner with Norwegian food
Norwegian chef's were flewn to Chile and spent several days preparing a magnificent feast entirely based on Norwegian food. No surprise, the "Svane potatoes" from our good friend, associate and customer Dag Fredrik Aftedal was part of the menu :-)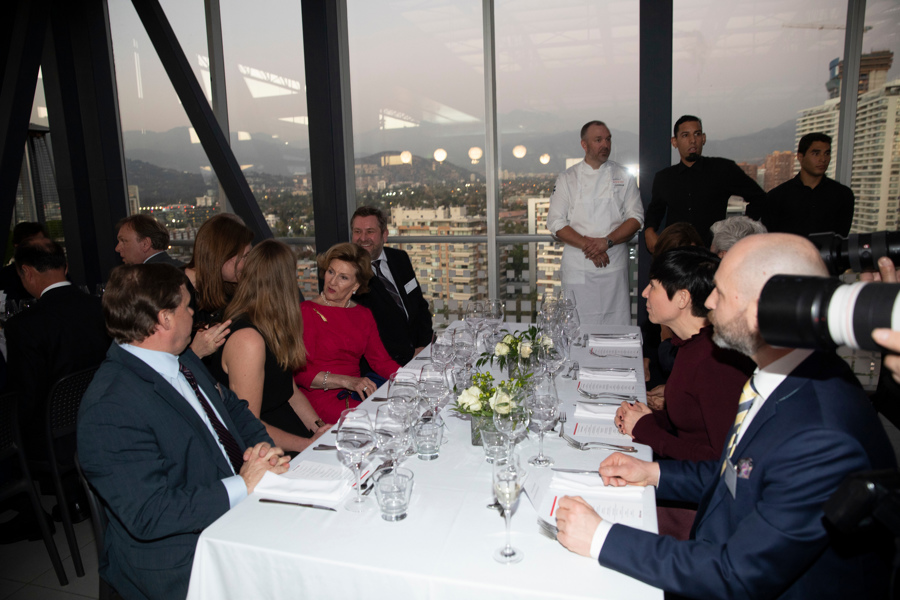 Royal table
7Sense, represented by Max J. Tangen had the honor of sitting at Her Majesty Queen Sonja's table. The splendid meal was shared with Minister of Foreign Affairs Ms. Ine Eriksen Søreide, Mr. Claudio Cilvety, General Manager of Vinos de Chile, the Norwegian ambassador in Chile, Ms. Beate Stirø, Bernt Reitan, CEO of Ruter, Torbjørn Svensgård, President & CEO of Norwegian Defence and Security Industries Association and Marit Mjøen Solem, CEO of FindMy.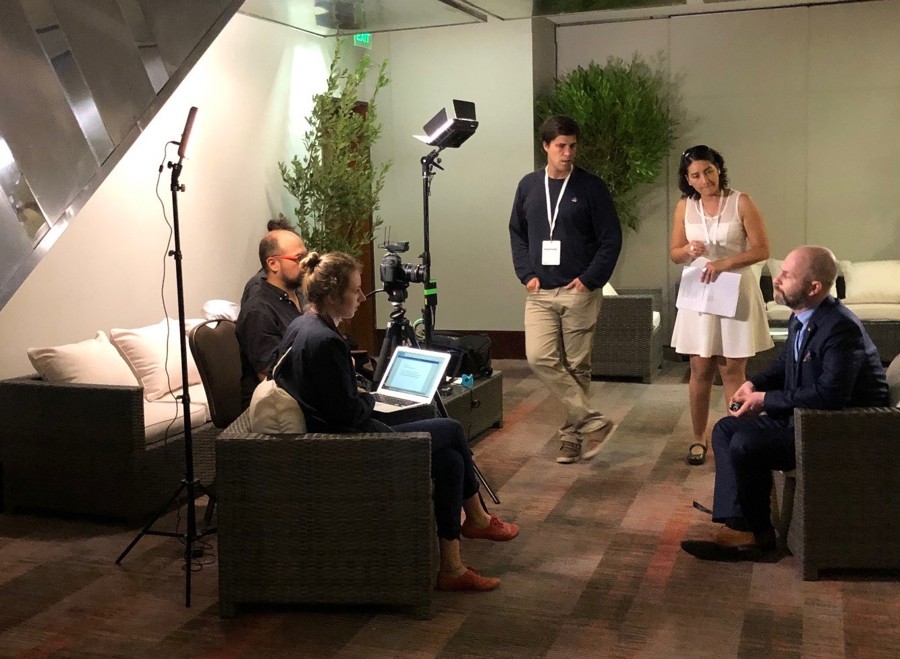 Chilean TV
Chilean TV are producing a mini-series about Norwegian industry and the business delegation. 7Sense was interviewed. The production team will visit Norway later on this year, and we look forward to welcoming them to Horten and 7Sense.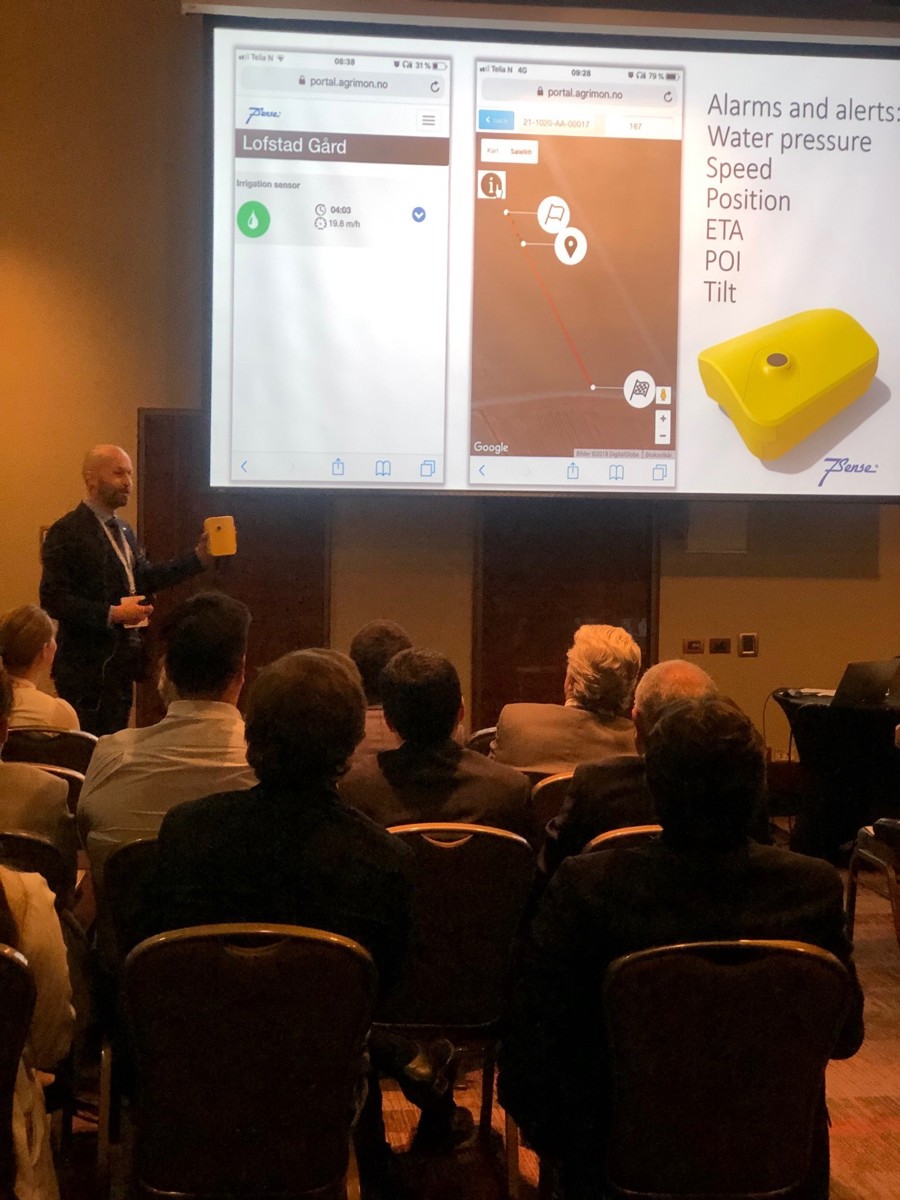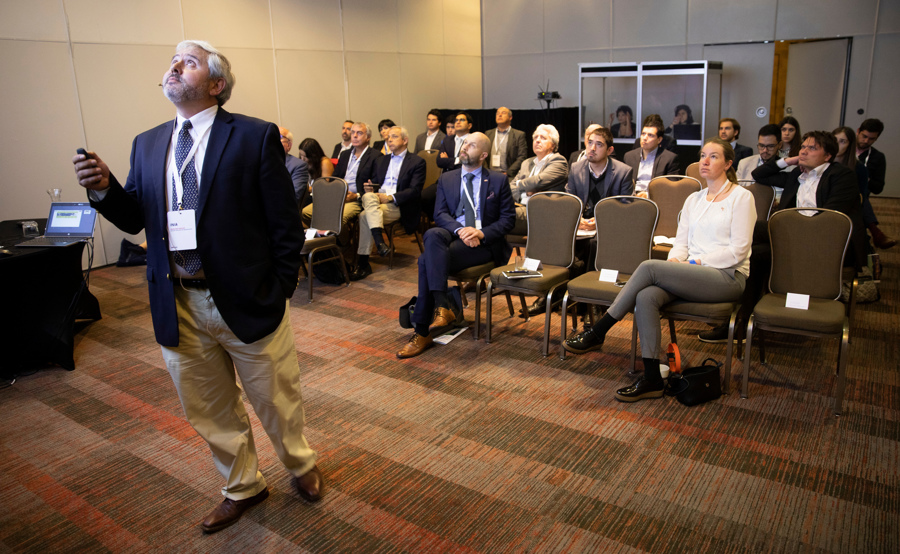 Agritech-session
The pictures above are from the break-out session Agriculture sustainable technologies. Stanley Best, National Director of Precision Agriculture at Agricultural Research Institute (INIA), was giving his views on current and future challenges within the Chilean fruit sector. He was followed by Gerardo Leal from Vina Santa Rita, who spoke about technology in the Chilean vineyards. Contributing from the Norwegian delegation: Nofima by CEO Øyvind Fylling-Jensen, Yara by EVP Pablo Barrera Lopez, Saga Robotics by CEO Pål Johan From, FindMy by CEO Marit Mjøen Solem in addition to 7Sense. The entire rountable session was organixed by Marit Valseth from Innovation Norway.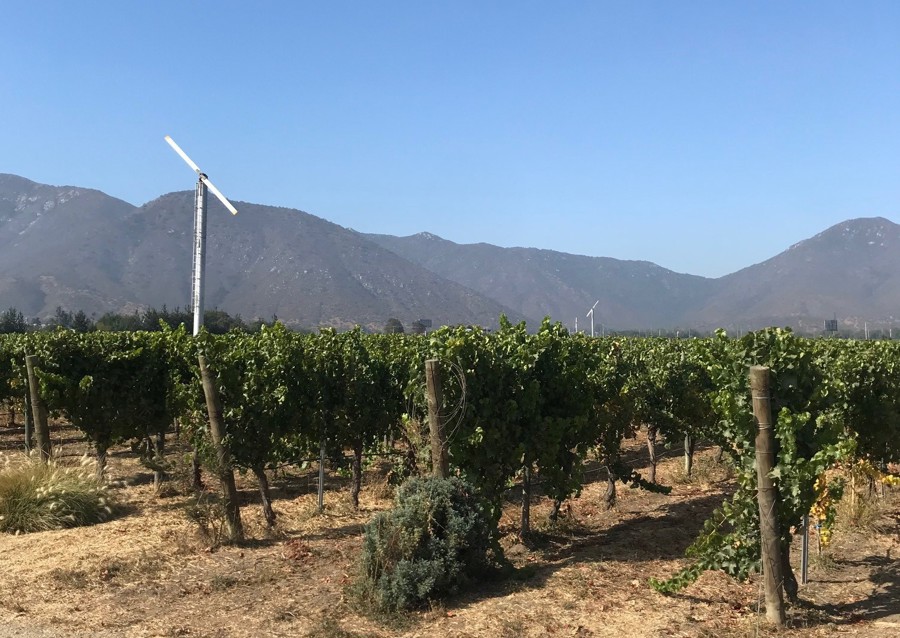 Fans, not windmills
Chile is experiencing very particular weather conditions, making the country especially suited for vine production. Cold winds from the Pacific coast are bringing frost to the Casablanca Valley, and at times they actually have to ventilate the entire valley by the use of large fans, as can be seen on the picture above.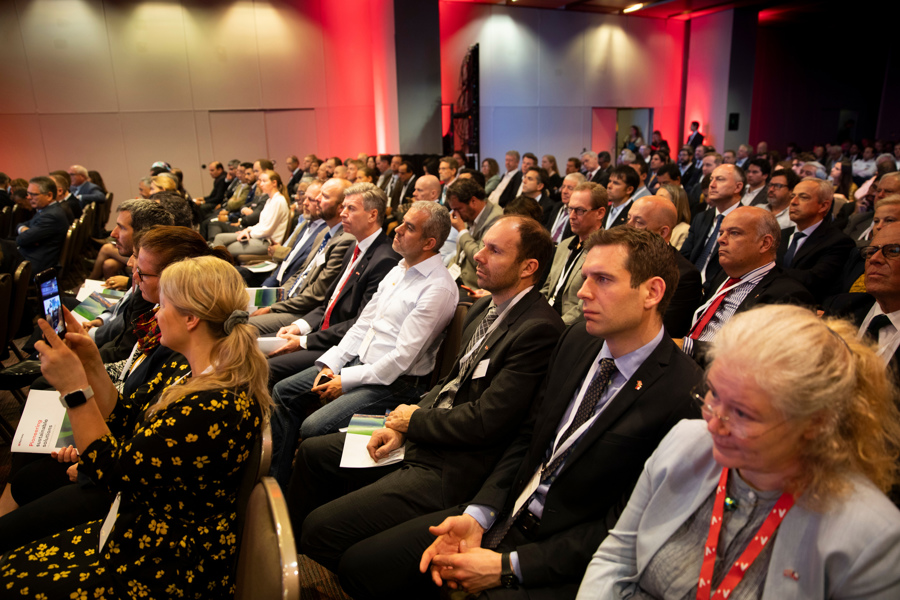 Photos: Tom Hansen